No published opinions this week.
March 29, 2022 –The Judicial Nominating Commission announces the three nominees for the position of Court of Civil Appeals, District 4, Office 2. After concluding the review process and conducting in-person interviews, the JNC submitted to the Governor the following nominees for this position:
Timothy J. Downing, Purcell
Laura M. Palk, Norman
Bevan G. Stockdell, Edmond
Under Article 7B, Section 4 of the Oklahoma Constitution, the Governor has sixty days to appoint an individual to this position. If he does not do so, the Chief Justice of the Supreme Court shall make the appointment.
OSCN.NET will be down for maintenance at the end of the day on Friday, April 1, beginning at 5:30 p.m. All services, including legal research, court records and e-payments are expected to be restored by 7 a.m. on Monday, April 4.
The Supreme Court of Oklahoma Court Calendar
The Supreme Court of Oklahoma is in session year round, unless otherwise noted. The Court regularly schedules conferences on Mondays and other days as needed.
Law Day Committee Announces Changes, Celebrates Students and Seeks Volunteers
The theme of Law Day this year is the "Toward a More Perfect Union: The Constitution in Times of Change." Taking a note from the theme of change, the OBA Law Day Committee has implemented a few changes to modernize the program and carry on Law Day traditions, just as the OBA has done since Hicks Epton implemented the first version of the program in 1951.
"Keeping with this year's theme of change, the OBA Law Day Committee is adapting our programming," said Law Day Committee Chair Ed Wunch. "Rather than focusing our efforts on a one-hour program on public television, we are producing content that will be educational and will have a longer lifespan on the OBA's YouTube channel."
Then on April 28, the annual Ask A Lawyer call-in will be held. Volunteers are needed to participate in a daylong effort to offer free legal advice to callers and emailers. New this year, the call-in will be held at the Oklahoma Bar Center in Oklahoma City, the Tulsa County Bar Association and at law offices across the state, instead of at the television studios, where it was held in recent years.
Largely unchanged, except for the exciting increase in entries, is the annual student contest. With 1,331 entries from around the state, committee members worked hard to determine winners in each grade on the theme.
Membership Survey Extended
From OBA President Jim Hicks: The OBA Board of Governors is conducting a survey of all association members in order to focus our
search for a new executive director.
Thanks to all members who have already taken the membership survey!
To allow for more participation, the survey deadline has been extended for another week and will close at the end of the business day on Friday, April 1. It will only take about five minutes to complete.
We need everyone's input on the future of our organization! Thank you.
Check your email for the survey. If you need it emailed to you again, please contact Debbie Brink.
Special thanks to members who participated in our promo video! Watch it again here!
The March Oklahoma Bar Journal focuses on the impact of McGirt v. Oklahoma. One of the theme articles is by Jacintha Webster.
From the article: "In the wake of the McGirt v. Oklahoma decision that resulted in an influx of cases to tribal courts, one question that arose was, 'How would victim's rights be protected in tribal courts?' As Oklahoma recently passed Marsy's Law in 2018, adding a number of victim's rights into the Oklahoma Constitution,1those who work with victims wanted to know whether similar rights would still be enforced. For tribal court practitioners, the intuitive answer seemed to be that tribal court systems do a fantastic job of looking out for victims. Additionally, several tribes have updated and added to their existing victim's rights provisions following the McGirt decision. This article will provide an overview of the various ways in which tribes have codified victim's rights as well as offer insight into tribal court practice and victim's advocacy."
Read the article by clicking here, or for a digital reading experience, try the new interactive version of the magazine that debuted with the March issue.
More articles on the McGirt v. Oklahoma theme issue:
Celebrating Women's History Month
Before they are gone, purchase this book that celebrates the achievements of Oklahoma's women attorneys. The book, Leading The Way: A Look at Oklahoma's Pioneering Women Lawyers, was first printed in 2003. The opportunity to buy two hardbound books for the price of one ensures you can have one for your library and give one as a gift. The price is $55 (plus shipping) for two books. To get your copy, email dawns@okbar.org. 
Free CLE with the Oklahoma Corporation Commission
Thursday, March 31  |  12:30 - 2 p.m. | MCLE 2/0
In conjunction with the Oklahoma Corporation Commission, the OBA CLE Department is providing a live free CLE focusing on the new Electronic Case Filing system that debuted earlier this month at the OCC.
If your practice involves working at the OCC on matters of energy, transportation and utilities, this mid-day learning opportunity is for you. The new system is designed to streamline processes, including filing, researching and tracking cases anywhere there is an internet connection.
By Jim Calloway, OBA Management Assistance Program director
Dropdown menus are great ways to navigate through software for things you do infrequently. For operations you do several times a day, keyboard shortcuts are faster, and you don't have to remove a hand from the keyboard. Some of these we know by heart, like Esc to close a window, Ctrl+C to copy and Ctrl+V to paste. But we often don't use keyboard shortcuts in Outlook, a tool we often spend entirely too much time using each day.
66 of the Most Useful Outlook Keyboard Shortcuts is brought to us from the Reader's Digest website. This may be a good article to print and leave by your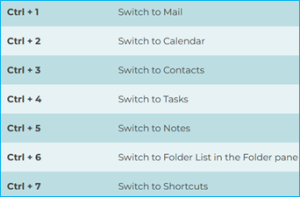 computer for a few days as you use Outlook. (I just used Ctrl+K to insert that hyperlink in that preceding sentence, and it was certainly faster.) If you often switch between Outlook mail, calendar and contacts, as you can see from the screen capture at left, it is as simple as 1,2 3 (or actually Ctrl+1, Ctrl+2 and Ctrl+3.) I note those three because they are easy to memorize, and they will likely be used frequently enough to retain that knowledge.
There is a section on enabling shortcuts in the post. But that apparently only applies to the online version of Outlook.
But if you review this piece, you may find the shortcut for something you use very frequently. Because the most useful shortcuts are the ones you actually use to save a few seconds or a few minutes every day.