No published opinions this week.
No published opinions this week.
The Supreme Court of Oklahoma Court Calendar
The Supreme Court of Oklahoma is in session year round, unless otherwise noted. The Court regularly schedules conferences on Mondays and other days as needed.
Let Your Voice Be Heard | Take the OBA Survey By March 25
The Oklahoma Center for Nonprofits, the organization conducting the OBA Survey, reports nearly 1,100 members have taken time to complete the five-minute survey. You have until March 25, to make your voice heard as part of strategic planning for the OBA.
Check your email for a link to the anonymous survey that was first emailed March 10.
If you need the survey emailed to you again, please contact Debbie Brink.  
The March Oklahoma Bar Journal focuses on the impact of McGirt v. Oklahoma. One of the theme articles is by Chrissie Ross Nimmo.
From the article: "Although the Curtis Act argument and alternatively the cross-deputization agreements and MOAs are focused on addressing criminal jurisdiction, many questions remain regarding civil regulatory jurisdiction of municipalities on Indian reservations."
Read the article by clicking here, or for a digital reading experience, try the new interactive version of the magazine that debuted with the March issue.
Celebrating Women's History Month
Before they are gone, purchase this book that celebrates the achievements of Oklahoma's women attorneys. The book, Leading The Way: A Look at Oklahoma's Pioneering Women Lawyers, was first printed in 2003. The opportunity to buy two hardbound books for the price of one ensures you can have one for your library and give one as a gift. The price is $55 (plus shipping) for two books. To get your copy, email dawns@okbar.org. 
Oklahoma Corporation Commission Debuts New Electronic Case Filing
The Oklahoma Corporation Commission debuted Electronic Case Filing on Monday. Visit the new portal.
If your practice involves working at the OCC on matters of energy, transportation and utilities, the new system is designed to streamline the process, including filing, researching and tracking cases anywhere there is an internet connection.
Training and demonstrations are in the works in conjunction with the OBA CLE Department .
By Jim Calloway, OBA Management Assistance Program director
We all agree that email is a pain, and sometimes managing email seems like a separate job by itself. But Outlook users have one great tool for processing email that is already builtin. It is called Outlook Quick Steps. Being able to accomplish several email actions with one click is a significant time-saver.
I've written about Quick Steps before, but a recent Attorney at Work post does a great job of explaining how to easily get started with Quick Steps. So, I would encourage you to read "Process Email Faster with Outlook Quick Steps" and perhaps share it with your office co-workers who also deal with email every day.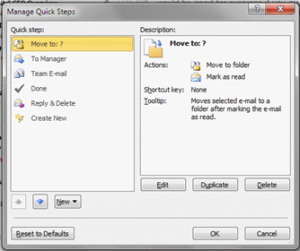 Start with a few simple Quick Steps. For example, if you often forward a certain client's emails to another attorney in the firm, a paralegal and a secretary, you can build a Quick Step that will open the email to forward and include those three individuals. Then you can either hit send or type some text before hitting send. The time savings is small but real, especially when repeated many times each day. If you send similarly worded emails out frequently, you can create a template with the text automatically included in the email body.
Saving minutes each day can add up to more billable hours or more times away from the office.